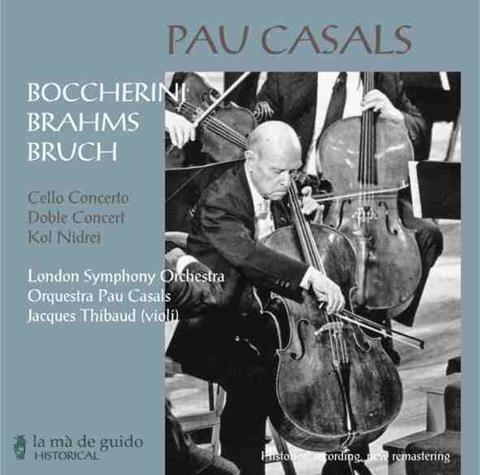 The Strad Issue: January 2013
Description: Well-preserved recordings of a master musician
Musicians: Pablo Casals (cello) Jacques Thibaud (violin) London Symphony Orchestra/Ronald Landon, Orchestra Pau Casals de Barcelona/Alfred Cortot
Composer: Bruch, Boccherini, Brahms
Including two performances of Kol nidrei is a bit strange – the second, earlier version is two and a half minutes shorter, having lost large chunks of the orchestral tuttis to the primitive acoustic recording techniques from 1923. This also means that the orchestral sound of what's left is extremely recessed, although despite this archaic technology Casals's robust tone and unswerving commitment carry through. The advantage of the diminished orchestral timbre is that the sour and squawking woodwind of the complete score in the other version (from 1936) is virtually absent.
Throughout, the remastering of these historic performances is exceptionally clear, and Casals's trademark credentials – his articulation of bowing and fingering coupled with eloquent lyricism and rich timbre – are all present. In fact in both the Bruch and the Brahms 'Double' Concerto his rhythmic accuracy is laudable, eschewing the indulgence of many later interpreters. Casals's partner in the 1929 Brahms, Thibaud, proves equally alert to rhythmic precision and is a masterful chamber musician, yet searingly intense and dramatic in the solo passages.
Boccherini's B flat major Concerto is an amalgamation of styles, teeming with Grützmacher additions. If one looks at it as a period piece, useful and pleasant as a technical vehicle, then the arrangement still has some currency and it is delivered here with stylish panache and observance of detail.
JOANNE TALBOT