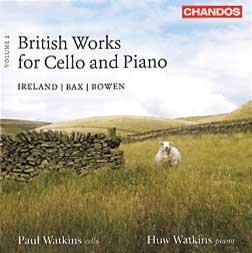 The Strad Issue: January 2014
Description: Convincing interpretations of three early 20th-century cello sonatas
Musicians: Paul Watkins (cello) Huw Watkins (piano)
Composer: Bowen, Bax, Ireland
These three sonatas, penned within two years of each other in the early 1920s, could not have more persuasive advocates than the Watkins brothers, beautifully recorded with both clarity and bloom. The challenge for the performers is to forge a narrative out of lengthy and often similar material. This is particularly the case with Bax's Romantically hued impressionism, which turns and curls with abandon. The middle Lento of his sonata offers perhaps the most memorable music, languorously pensive, with whispers of Debussy floating amid the rich chords. A sprightly dance-oriented finale sharpens up the atmosphere, with both artists clearly defining their rhythmic ideas. Ireland's Sonata is pithier, owing much again to impressionism, and presents a more strident lyricism in its finale. The influence of Debussy is palpable here too, and once more these committed performers bring the musical landscape to life. Although the least known of the sonatas, York Bowen's work stands head and shoulders above the other two. The reason is that the ideas are significantly more striking, with lush Romantic harmonies adorning the melodies like a perfect dance partner. Again a stellar performance of this taxingly virtuosic music offers fervent momentum in the opening Moderato, and the cellist's abundantly expressive timbre allows the elegiac quality of the Lento serioso to bask in golden tones.
Joanne Talbot