Jennifer Stumm was eventually able to persuade ground staff in Amsterdam to allow her instrument on board the flight, which was not fully booked, she says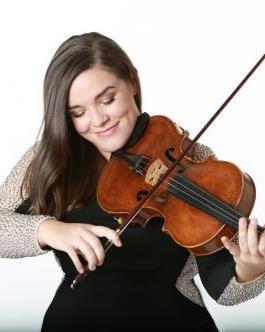 Royal College of Music International Chair of Viola Jennifer Stumm has described her difficulty in taking her 430-year-old viola on board a British Airways flight from Amsterdam's Schiphol Airport.
The musician shared the incident on her Facebook page:
'British Airways at Schiphol just tried to deny me boarding with my 430-year-old viola, which fits easily into any overheard bin, on a flight that was not full. BA does not guarantee violins or violas on board like easyJet and so many others. BA, it's high time you started supporting traveling artists.'
Stumm further explained to The Strad:
'I was first rebuffed at check in, at which point I showed the desk agent BA's online policy which states that the airline will attempt to accommodate instruments if there is space. When I arrived at the gate, it was clear that my boarding pass had been flagged as I was stopped. I then explained the age and pricelessness of the viola, which had no effect on the attitude of the staff. I further explained that I would need to speak to the captain and if denied boarding my baggage would be offloaded and the plane would likely miss its take-off slot. The plane wasn't full and there was plenty of overhead space. The staff acted like they were doing me a favour, which bodes poorly for musicians attempting to fly on fuller flights.'
The Strad contacted British Airways, who have issued the following comment:
We appreciate the importance and value of instruments to musicians, and offer specific arrangements for transporting them which are detailed on ba.com.
We will always do our best to accommodate instruments larger than the standard hand luggage size when possible, however during busy periods when we have high volumes of customers flying with hand luggage, we cannot always guarantee this option.
Two months ago Dunedin Consort leader Cecilia Bernardini was forced to remove her 18th-century violin from its case and carry it on her lap on a British Airways flight from Amsterdam Schiphol when staff refused to allow the case in the cabin. Instead her case, containing three valuable bows, was checked into the hold.
In response to that incident, London-based violinist Paula Muldoon launched a petition on change.org, requesting that BA alter its instrument policy 'on behalf of the musical community of Europe'. The petition, which has gathered more than 6,000 signatures, reads:
Your current policy allows far too much leniency for staff to insist on checking violins/cases into the hold, even when (as was the case with Cecilia) there is plenty of space in the overhead lockers.
Read: American Airlines pilot denies Rachel Barton Pine access to cabin with her violin
Read: Time For Three violinists denied access to US Airways flight with instruments