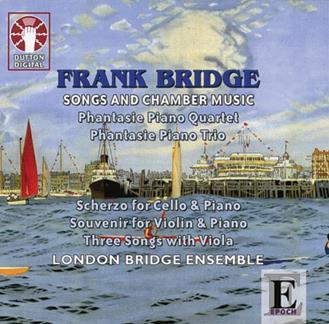 The Strad Issue: January 2008
Musicians: London Bridge Ensemble, Ivan Ludlow (baritone)
Composer: Bridge
The choice of programme here offers a release that is unique in the fast-growing catalogue of Frank Bridge recordings. The two substantial 'Phantasie' pieces, framing the group of shorter works written in his salon style, were composed within three years of one another for entry in the annual Cobbett Prize of 1907 and 1910 – the requirements of the competition shaped the idea of the rhapsodic one-movement format chosen by Bridge.
The performances from the London Bridge Ensemble wholly capture the engagingly fresh and lyrical content of both scores, the playing replete with passion that yields rich rewards. The players take a relaxed view of the pulse of the music, with the strings immaculate in their well-centered intonation and a carefully judged internal balance. It is difficult to censure the pianist, Daniel Tong, who cannot always resist dominating in his highly rewarding role.
The two works for cello and violin are attractive salon pieces, both well played respectively by Kate Gould and Benjamin Nabarro; the songs are less interesting in their content, but nicely sung by Ivan Ludlow.
Close microphones produce excellent inner detail, though the more opulent sound for MartinuRoscoe and the Maggini Quartet (Naxos) keep their performance as the preferred Phantasie Quartet.
DAVID DENTON