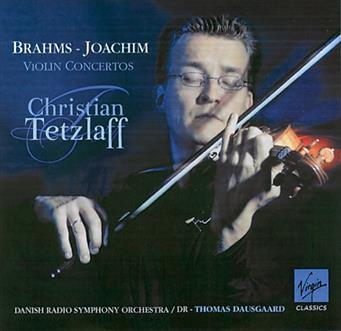 THE STRAD RECOMMENDS
The Strad Issue: January 2008
Musicians: Christian Tetzlaff (violin) Danish National Symphony Orchestra, Thomas Dausgaard (conductor)
Composer: Brahms, Joachim
The continuing rehabilitation of Joachim's 'Hungarian' Concerto is to be welcomed, and the work that Brahms partially based on it is the obvious coupling. Rachel Barton Pine has already given us this pairing (Cedille), and the two concertos illuminate one another.
I do not want to seem perverse, but considering the vast opening movements, which provide most of the interpretative problems, I would have preferred Christian Tetzlaff to tighten up the Brahms and relax more in the Joachim.
His conductor, Thomas Dausgaard, changes tempo too much in Joachim's tutti, but once the soloist enters everyone seems concerned to get the movement over as soon as possible. Barton Pine, at a slower basic tempo, gets far more out of the music. She also has a better orchestra, a better conductor and a better recording.
Tetzlaff ruins the lovely second subject with a wide vibrato and a rather smeary style, which he obviously associates with 'Hungarian' style. Well, yes – but what we want is Hungarian style of the Hubay era and later. Joachim absolutely loathed this kind of playing. Tetzlaff uses the wah-wah effect again in Joachim's Romanze, and briefly in Brahms's Adagio.
In Brahms's first movement, Tetzlaff is on the slow side (16 minutes and 43 seconds to the start of the cadenza) and is lyrical to a fault, and Dausgaard is rather ineffectual. Barton Pine is even slower (19' 10"), but she and her conductor, Carlos Kalmar, create a much more inexorable effect. I enjoy Tetzlaff's buoyant readings of both finales, but the recordings are only so-so.
TULLY POTTER