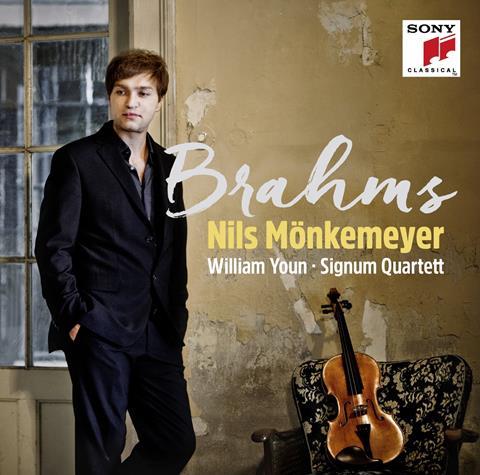 The Strad Issue: December 2015
Description: Violists of different generations take on Brahms's sonatas
Musicians: Nils Mönkemeyer (viola) William Youn (piano) Signum Quartet
Composer: Brahms
These CDs feature performances by a Grand Old Man of the viola and one of the instrument's most celebrated present advocates. Now in his seventies, Rainer Moog can look back on a career that started with a prize at the Munich Competition and included a stint as principal violist of the Berlin Philharmonic, followed by several decades of unassumingly successful work as a teacher in Cologne. Nils Mönkemeyer (b.1978) enjoyed a run of competition successes before inheriting his teacher's position at the Munich Hochschule in 2011. Both players have made a number of recordings during their respective careers but not many of Moog's are available on CD, making this, his second recording of the Brahms sonatas, all the more welcome.
Moog's view of these pieces is the loving result of countless performances and long reflection on the music: his pacing and phrasing feel absolutely natural, and rubato sounds inevitably right. Moog relishes the music's broad intervals with heartfelt portamentos. Although he keeps mostly to the higher, 'clarinet' version of both sonatas, he does make an exception for the beginning of the F minor piece – the warmth of the C and G strings is too good to lose! Moog's tone may not be as immediately seductive as, say, William Primrose's
or Yuri Bashmet's but its sinewy quality fits the music's autumnal mood like the proverbial glove. Hashiba is a thoughtful partner throughout.
In a booklet interview, Mönkemeyer claims to play the E flat major Sonata 'from the clarinet part' but of course he does no such thing: some telltale double-stops and the odd changed pitch point to the usual viola part, albeit restored (mostly) to the original, higher octave. Conversely, Mönkemeyer keeps to the traditional, 'low' version of the F minor Sonata, which suits the piece's tragic hue but results in anticlimactic octave drops. Mönkemeyer's tempos are consistently on the broad side and, combined with his suavely sweet trademark tone (and a more resonant acoustic than in Moog's more closely balanced recording), they make for a very different, to my ears more mannered experience. Youn is a stimulatingly proactive collaborator. Mönkemeyer's coupling of the Hungarian Dances is lightweight in comparison with Moog's, who includes Fuchs's very Brahmsian Sonata and Kiel's rarely recorded Romances, redolent of late Schumann.
CARLOS MARÁA SOLARE