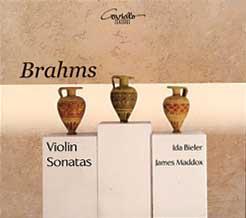 The Strad Issue: January 2014
Description: A generally successful pairing of Brahms's two sextets
Musicians: Pražák Quartet, Petr Holman (viola) Vladimír Fortin (cello)
Composer: Brahms
The expansive opening of Brahms's B flat major Sextet is one of the great moments in chamber music and the all-Czech Pražák, joined by half of the Zemlinsky Quartet, does not disappoint. The ensemble creates a rich, brown sound that immerses one in warmth, a mood maintained by the gently lilting second subject – but then sadly shattered when the tempo is too brusquely pushed on at the animato cello theme.
Listening to the disc's closely recorded sound, there's the sensation of sitting among the players, with every detail audible, particularly the middle parts. The Andante's noble viola melody is luxuriously bowed, and the listener fully experiences the variety of textures in the variations, from billowing waves of demisemiquavers to the bare sound of open strings. If the last two movements are sometimes too careful and cerebral, the scherzo's joyous, whirling trio goes a long way towards dispelling any fustiness.
Sextet no.2 gets off to a less promising start, with ensemble between the violin's rising melody and the undulating viola quavers failing to gel. However, elsewhere the players demonstrate a deep understanding of Brahms's music, with their beautifully clear textures in the scherzo, the poised, otherworldly calm of their Poco adagio and the last movement's charmingly lilting Viennese waltz.
Janet Banks