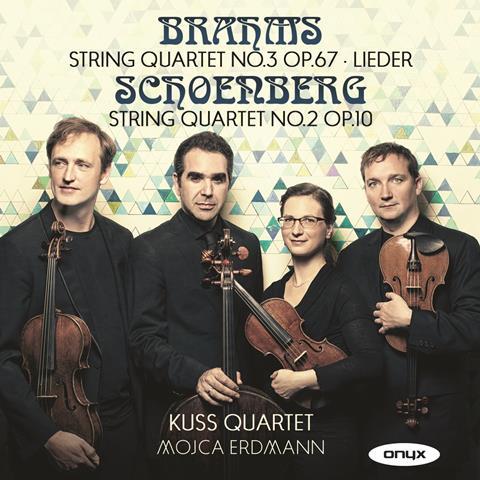 The Strad Issue: February 2017
Description: The Kuss players continue to make ear-opening musical juxtapositions
Musicians: Mojca Erdmann (soprano), Kuss Quartet
Composer: Brahms, Schoenberg
Catalogue number: ONYX 4166
The Kuss Quartet's first disc for Onyx paired Schubert and Berg. This new one offers a similar juxtaposition but with two composers in Brahms and Schoenberg who are even closer together. And that is how they sound in these outstanding performances, both characterised by the same thoughtful lyricism and intelligent, high-quality playing.
There's an apt Haydnesque playfulness in the two movements of the Brahms, with tender rubato and first violin Jana Kuss applying some judicious portamento. As we get into the final two movements, though, the centre of gravity shifts towards the viola, with William Coleman's playing heartfelt and eloquent, the other instruments shifting subtly into the background when required.
Here, too, we get a sense of the same slightly furtive, nascent modernity that becomes more explicit in the Schoenberg, which is performed with a clarity and virtuosity – and musicality – that demonstrates its own rootedness in classical models. The way that the quartet accompanies soprano Mojca Erdmann in the final two movements is also outstanding, especially when wrapping a cobwebby filigree around her vocal line in the closing 'Entrückung'. Erdmann's rather tremulous voice, though, works better here than in the Brahms song arrangements, which are the only disappointments on an otherwise very fine, well-recorded disc.
Hugo Shirley