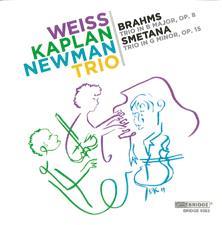 The Strad Issue: January 2012
Description: A largely successful coupling of two great Romantic piano trios
Musicians: Weiss–Kaplan–Newman Trio
Composer: Brahms & Smetana
The Weiss–Kaplan–Newman Trio presents a powerful account of Brahms's First Piano Trio, one where the choice of tempos in the outer movements gives an ideal sense of creative spontaneity. Compared with my benchmark recording from the Florestan Trio (Hyperion), these Americans bring the dramatic moments more forcibly to our notice. That is to the work's advantage, but I then miss the Florestan's wispy and sinister passages in the scherzo and the hushed beauty of Susan Tomes's piano in the slow movement.
Here, however, I enjoy Clancy Newman's many serene cello solos, piano playing from Yael Weiss that adds its full quota of weight, and the overall warmth of the music making that largely comes from Mark Kaplan's generous violin vibrato. The trio's technical panache, coupled with precise internal balance, places the performance among the most desirable on disc.
The coupling may be your deciding factor, as most other recordings offer more Brahms. Here instead we have a reading of Smetana's Trio that is ever responsive to the work's many moods. The score's relaxed moments inspire eloquent playing, the central movement is full of essential wistfulness and the players drive through passages of the finale at a hectic pace. In all, it is an enjoyable performance recorded in rather close-up sound.
DAVID DENTON