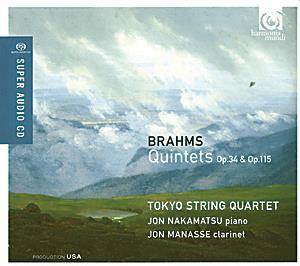 The Strad Issue: January 2012
Description: A cantabile approach to Brahms that works better in one work than the other
Musicians: Tokyo Quartet, Jon Nakamatsu (piano) Jon Manasse (clarinet)
Composer: Brahms
Here are two cherishable masterworks unmistakably by the same composer yet utterly different in expressive profile. The Piano Quintet is overtly thematic, Beethovenian in its emotional directness and only truly 'sings' in the fiery scherzo's glorious central trio section, whereas the Clarinet Quintet never stops 'singing', is more overtly Viennese than Germanic and owes more to the composer's beloved Schubert.
Pianist Jon Nakamatsu and the Tokyo Quartet are on fine form in the F minor Quintet, playing with an effortless command and sophistication that reveal details of texture and articulation that often lie hidden beneath an all-purpose Sturm und Drang. Yet theirs is an essentially cantabile approach that has a tendency to cushion Brahms's musical body-blows, especially when compared to the searing intensity of the young Christoph Eschenbach and Amadeus Quartet (Deutsche Grammophon), who provide an edge-of-the-seat experience like no other.
Turn to op.115 and the Tokyo players, alongside velvet-toned clarinettist Jon Manasse, sound completely at home. There is an underlying sadness and tantalising nostalgic longing about this extraordinary music that others (Alfred Boskovsky and members of the Vienna Octet on Decca, for example) may have captured more profoundly, but that is to carp in the face of a beautifully played, radiantly engineered performance that is especially alluring in the SACD's surround sound.
JULIAN HAYLOCK