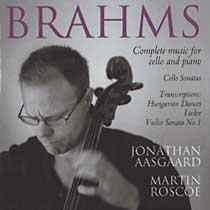 The Strad Issue: January 2014
Description: A complete Brahms cello collection that proves more successful at the smaller scale
Musicians: Jonathan Aasgaard (cello) MartinuRoscoe (piano)
Composer: Brahms
This ambitious project is something of a mixed bag. There are plenty of moments to savour in the clear and ambient recording, highlighted by some elegant cello playing in the Lieder arrangements with idiomatic partnering from MartinuRoscoe. Equally, many of the Hungarian Dances are projected with character, and the 'FAE' scherzo provides a spirited conclusion to the first CD.
But in the larger works some issues start to rear their heads. Most obvious, perhaps, is the difficulty Jonathan Aasgaard has in maintaining impetus. This is a somewhat instinctive matter, and in lengthier movements there is a tendency for proceedings to get too comfortable, as witness the first movement of the arranged G major Violin Sonata. Some of the passagework here becomes laborious and the tempo for Brahms's prescribed Vivace ma non troppo seems too careful.
Other imperfections, apparent in op.38, include a lack of direction to some of the phrasing and a tendency on repeated sequences to differentiate in terms of colour or subtle articulation, which also serves to impede a sense of forward momentum. The F major Sonata is more successful, although the Adagio, despite having some poignant moments, lingers unduly. This duo is heard at its best in the concluding two Allegro movements, where the pace and shaping of the music seem more incisive.
Joanne Talbot