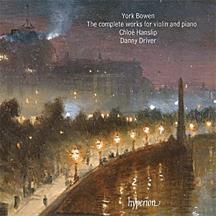 THE STRAD RECOMMENDS
The Strad Issue: January 2013
Description: Beguiling playing of British music from the first half of the last century
Musicians: Chloë Hanslip (violin) Danny Driver (piano)
Composer: Bowen
Hyperion's York Bowen series continues in the sensitive hands of Chloë Hanslip, partnered by Danny Driver, who has already recorded the piano sonatas and two of the concertos. The works here span most of Bowen's creative life, from the unpublished Romance of 1900, written when he was 16, to the Song and Bolero of 1949, twelve years before his death. Stylistically, he didn't travel too far in between. Many of the shorter works have immediate appeal and deftly drawn character.
Hanslip has a beguiling way with Bowen's wistful melodies such as the sad, gentle Melody and the Song, partner to the debonair Bolero, which she executes in suitably dashing style. The Serenade, a lilting, melancholic, double-stopped waltz from 1917, is played with a light, affecting touch. In the Melody for the G string, written in the downright perverse key of G flat major, Hanslip weaves a seamless and captivating line. She produces light, exuberant playing in the early two-movement B minor Sonata of 1902 (unpublished and possibly incomplete) and a rich, noble tone for the main theme – alarmingly close to that of Beethoven's Coriolan Overture.
The first movement of the 1945 E minor Sonata is a big-boned affair, imbued with a Romantic spirit and language largely untouched by the 20th century. Hanslip gives a subtle account of the light, wistful Lento, with its sinuous lines and French-tinged harmonic landscape, and scampers around the finale with muscular agility, particularly on the G string. In the substantial Suite she mixes heroic, rhetorical flights with passages of expressive intimacy. The recording is first rate.
TIM HOMFRAY