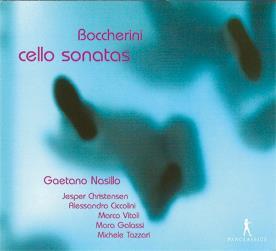 The Strad Issue: January 2012
Description: Cello playing that meets Boccherini's many technical challenges head on
Musicians: Gaetano Nasillo, Marco Vitali, Michele Tazzari (cello) Alessandro Ciccolini (violin) Jesper Christensen (harpsichord) Mara Galassi (hooked harp)
Composer: Boccherini
Just under one third of Boccherini's cello sonatas are represented on these two discs. Although the works tend to share a similar three-movement fast–slow–fast structure, they have not been fashioned with the same mould. Gaetano Nasillo reveals their distinct melodic profiles with his substantially accurate, nimble left hand, athletic bowing, vocally inspired phrasing, sensitive expression, and a rhythmic sense that is centred yet pliable. He negotiates all virtuoso forays into the instrument's stratosphere with flair, as in the concertante first movements of the sonatas in A major G4 and the martial G major G5. He dispatches Boccherini's challenging string-crossings, cadenzas, multiple-stoppings, pedal and other effects with verve and aplomb. Yet he never neglects the charm and elegance of, for example, the Adagios of the sonatas in A major G4 and C minor G2b, always playing with taste and finesse.
Accompaniment by a second cello is the norm, but timbral changes are rung with the use of a violin (G11), a hooked harp (G579) and a harpsichord (G4 and 'L'imperatrice'). Violinist Alessandro Ciccolini accompanies sensitively and provides an effective and intimate backdrop for the flexible, richly ornamented cello line of the E flat major Sonata G11's central slow movement.
The close-up recordings are of variable quality. Balance is inconsistently handled, the continuo instruments sometimes intruding upon, rather than supporting Nasillo. Audible sniffing and the patter of finger pads on fingerboard are also notable distractions. However, these quibbles should not detract from Nasillo's imaginative and often moving artistry.



ROBIN STOWELL