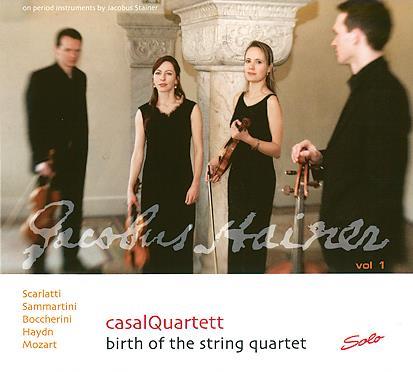 The Strad Issue: January 2010
Musicians: Casal Quartet
Composer: A. Scarlatti, Boccherini, Haydn, Mozart
The Casal Quartet has proven expertise in 20th-century repertoire and introduces modern techniques and interpretative approaches into its accounts of these five fledgling Classical string quartets, employing vibrato in abundance. However, its members' use of four well-matched Stainer instruments and, probably, partial gut stringing, nods to the past. Solo Musica's recording is suitably warm and vivid.
These players reproduce remarkable clarity of voice-leading in the fugal opening Largo of Alessandro Scarlatti's D minor Sonate a quattro, as well as lively imitative counterpoint in its third movement. They create striking viol consort-like sonorities in the Grave, but play the final minuet uncharacteristically fast.
The melodious trio-sonata style of SamMartinu's Sinfonia in G major, performed here with appropriate joie de vivre, clearly influenced Mozart, whose Italianate G major Quartet K80 focuses on the ensemble's two violinists and elicits some charming extempore ornamentation from leader Daria Zappa. Outstanding is the Casal Quartet's exciting account of the second movement, along with its readings of the lyrical central Largo and the deftly articulated, dramatic finale of Boccherini's op.2 no.1. The dark colours and contrasting characters of the opening Moderato of Haydn's op.9 no.4 are subtly conveyed, but the dexterity and finesse of the playing in the finale are marred by inconsistency of pulse.
ROBIN STOWELL