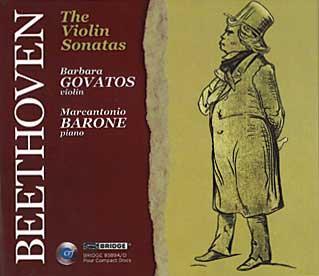 The Strad Issue: January 2013
Description: A Beethoven sonata survey that doesn't quite match the best available
Musicians: Barbara Govatos (violin) Marcantonio Barone (piano)
Composer: Beethoven
Seasoned Philadelphia-based duo Barbara Govatos and Marcantonio Barone chart the course of Beethoven's violin sonatas with firm musical values and remarkably accomplished playing, presenting them in chronological order and including all repeats. Their sensitive musicianship and excellent rapport, allied with technical assurance, polish and a flexibility of approach that sustains interest, place them high in the rankings, even if their accounts do not quite reach the head of a highly competitive field. Their performances are underpinned by a clean and well-focused recording.
Govatos and Barone are unanimous in adopting a moderate, civilised and thoughtful approach, seeking optimum control and concentration without exaggeration. They tend to miss something of the impulsive quality of early Beethoven and some of their playing seems clinical, yet they introduce some delicate colourings, finely graded dynamics and subtle rubato, and highlight Beethoven's melodic invention with some striking lyricism, as in the expressive Adagios of op.12 no.3 or op.24. They also acknowledge Beethoven's wit, for example in their accounts of the finales of op.12 nos.2 and 3 and the scherzo of op.24, and Barone's continual care for clear textures and his finely balanced chordal playing are often refreshingly perceptive.
It is when Beethoven demands more powerful or unrestrained interpretations that this duo's accounts become less convincing. Govatos's 1619 Brothers Amati seems to protest audibly when she turns the voltage up in such movements as the finales of op.24 and op.30 no.2 or realises the 'Kreutzer' Sonata's powerful concertante writing, and she certainly sounds technically challenged in some of op.47's variations, especially the second and fourth. Op.96, however, suits the duo's style to a tee, especially the tranquil opening movement, flexible of tempo and punctuated by bursts of energy, and the expressive Adagio, impressively sustained and shaped, even if they ignore Beethoven's specific sotto voce and mezza voce indications.



ROBIN STOWELL