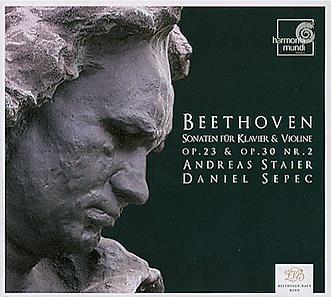 The Strad Issue: January 2006
Musicians: Daniel Sepec (violin) Andreas Staier (piano)
Composer: Beethoven
This disc has significant organological interest. Daniel Sepec plays an early 18th-century Austrian violin presented to Beethoven by Prince Lichnowsky around 1800 and recently restored to its original condition, while Andreas Staier masters with a refined touch the idiosyncrasies of a Conrad Graf fortepiano (1824), housed in the Beethoven-Haus in Bonn.These players' interpretation of op.23 is most persuasive in its vitality and freshness. Their opening movement, a true Presto with the piano as the primary melodic voice, is colourful and athletic and their musically astute realisation of its conclusion is a sheer delight. They seem in jocular mood in the central movement, but they make much of the finale's contrasting episodes, taking the opportunity of adding extempore lead-ins as appropriate.
Sepec's occasional groping for notes apart, one cannot but admire the vitality, intensity and shapeliness of their accounts of the outer movements of op.30 no.2. They play up the grotesque element, exploit a wide range of articulation and dynamic contrast and revel in moments of restlessness and exuberance. Their slow movement lives up to its cantabile billing, though it is never short on drama, and their Scherzo and trio are unusually brisk, well accented and adorned with some pleasing rubato.
The variations on Mozart's popular theme are winningly characterised, taking advantage of the Graf piano's 'bassoon stop' in the second variation and 'janissary stop' in the fifth. The closely miked recordings are naturally balanced, though sometimes a little bass heavy, and the acoustic is spacious without in any way clouding the focus.
ROBIN STOWELL