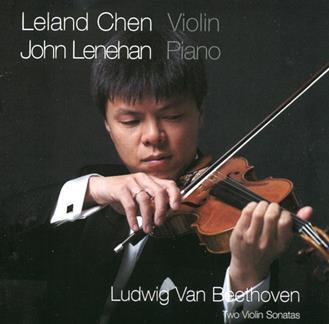 The Strad Issue: January 2008
Musicians: Leland Chen (violin) John Lenehan (piano)
Composer: Beethoven
Reactions to this unusual but rewarding coupling will depend very much on how 'clean' you like your Beethoven. Those who prefer their sforzandos, fortissimos and staccatos to ring out loud and clear via rapid bow strokes away from the bridge may find Leland Chen's 'hair-against-stick', bridge-orientated percussiveness somewhat unconducive. Yet there is an earthiness to Beethoven's creative personality – especially evident in the outer movements of the 'Kreutzer' – which can become lost from view if one inclines too far towards cushioning his musical body-blows.
Chen clearly sees Beethoven's sonata structures as psychological melodramas to be played out in full, as witness the opening movement of the C minor Sonata, which becomes a musical battleground between a tormented introspective and his aggressor. Yet – and here the parallel with Yehudi Menuhin, with whom Chen studied for a time, is unmistakable – for all the propulsive physicality and indomitable surge of Chen's allegros, the magic really starts when the music turns inwardly poetic. In the wrong hands the C minor Sonata's Adagio cantabile slow movement can seem interminable, yet such is Chen's ability to draw the listener in with his micro-fine inflections of phrase and dynamic that one wishes it would go on forever for fear of breaking the spell.
The subtle give-and-take between violin and piano is another important element of these scores relished by Chen and John Lenehan, whose fine-graded pianism is a constant source of pleasure. The recording captures the weight of the piano most convincingly, although the violin image is a shade lacking in bloom.
JULIAN HAYLOCK