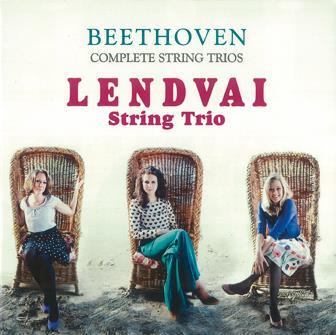 The Strad Issue: January 2013
Description: Performances of Beethoven's complete trios that succeed best in their good humour
Musicians: Lendvai String Trio
Composer: Beethoven
The Dutch, Swedish and British members of the Lendvai String Trio came together in 2004 while students at London's Guildhall School of Music and Drama, and since then they have performed Beethoven's string trios as part of their standard repertoire. That familiarity is shown in performances that faithfully reproduce the printed score, with a transparency of texture that highlights many moments of inner importance.
Maybe their combined musical personalities are more inclined to happiness than drama, since the darker colours of the opening and slow movements are rather lacking in intensity. In the minuets and scherzos, on the other hand, there's playing full of good humour and charm, and no lack of technical brilliance when dexterity is required in the mercurial finales.
The Serenade, with its droll wit, is highly successful, and tempos are well chosen throughout all of the works, which have more impetus than in many other recordings. If at times Nadia Wijzenbeek's violin intonation is not without question, in mitigation the performer is often presented with passages, particularly in the D major Trio, that are frightfully difficult both in bowing and tuning.
Heard on its own merits, this issue should offer much pleasure, but listen to my benchmark performances from the Leopold Trio (Hyperion) and you move on to a different level, with subtle dynamic shading and rhythmic nuances breathing life into every bar.
The Lendvai does have the advantage of an immaculately balanced sound, with an enlivening acoustic that gives due weight to the viola, which at times is overshadowed by the outer voices in the Hyperion release.
David Denton