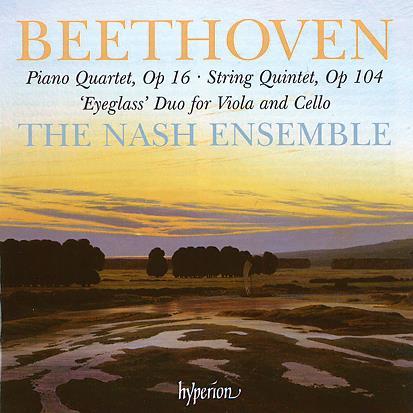 The Strad Issue: January 2009
Musicians: Nash Ensemble
Composer: Beethoven
Like many sequels, this follow-up to the Nash's enjoyable disc of the two proper Beethoven string quintets (CDA 67693) is only partially successful. The main problem is op.104, one of those cases where Beethoven merely corrected someone else's cack-handed arrangement. To borrow a phrase the composer used on another occasion, it is a cobbler's patch. The Nash's Scandinavian violinists (Marianne Thorsen and Malin Broman) and British lower strings (Lawrence Power, Philip Dukes and Paul Watkins) do their best, producing consistently pleasant sounds and trying to make music written as a wind octet sound like a string quintet, but it is all a bit pallid.
With the 'Eyeglass' Duo, the problem is that Power and Watkins, well as they play, indulge in over-elaborate phrasing for what is essentially simple music. William Primrose and Emanuel Feuermann (first movement only, on Biddulph) show them the way home.
Primrose (as a member of the Festival Quartet) is also my exemplar in the E flat Piano Quartet, one of Beethoven's best arrangements. Again the Nash strings are less direct, but this time it works. Their more introverted playing sets off the superb pianist Ian Brown – on a particularly fine Steinway – really well. Everyone has fun in the 'boys and girls come out to play' finale. Good clear recordings.


TULLY POTTER