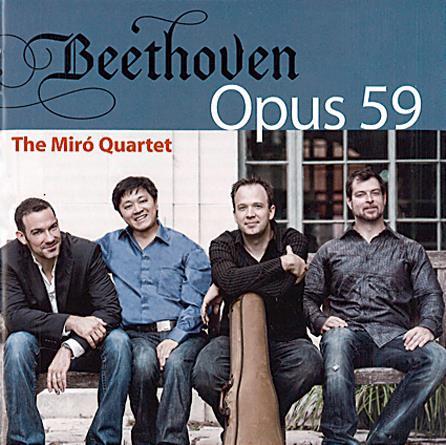 The Strad Issue: January 2013
Description: Imposing and fleet-footed Beethoven from a leading US quartet
Musicians: Miró Quartet
Composer: Beethoven
If you are looking for recordings of the three 'Rasumovsky' Quartets in a single package, then these two discs from the University of Texas at Austin Center for American Music have a great deal to commend them. Maybe other performances launch into the first quartet's opening movement with greater passion, though as we are to learn, the Miró does not indulge in excess – well, not often. The badinage of the following scherzo bounces around the instruments with a sense of fun, though one becomes increasingly aware of the prominence given to the cello, particularly in its lower register. That instrument plays a significant role in the Miró's yearning approach to the slow movement, but blends more into the texture in the drama of the finale.
It would seem that the Miró players regard the F major work as a prelude to the magnitude of the following E minor Quartet, where their massive account of the opening Allegro possesses a vibrancy and excitement that blaze with white heat. The second movement, a little slower than Beethoven's metronome marking, complements an unhurried scherzo, and a finale both fast and cleanly articulated. As a whole, this is an imposing reading.
With no.3, the highly charged opening Allegro vivace and a slow movement characterised by detailed dynamics hardly prepare one for the Miró's finale, which is played just about as fast as is humanly possible.
Technically the playing is very good, but the close-up recording has the viola rather to the rear, and the sound image is pleasing but could have been more detailed.



DAVID DENTON