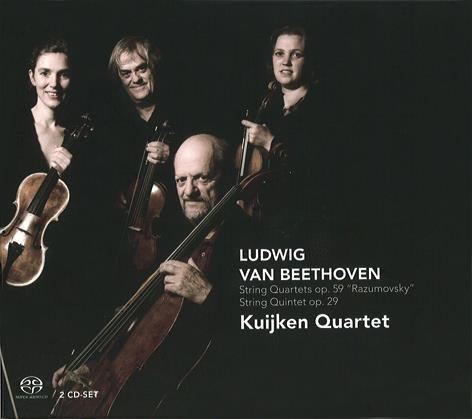 The Strad Issue: January 2011
Description: Raw-edged Beethoven from players brought up in the period-instrument world
Musicians: Kuijken Quartet, Marleen Thiers (viola)
Composer: Beethoven
This set combines the dynastic Kuijken ensemble's 2006 recordings of op.59 no.3 and op.29 with newly available 2009 accounts of opp.59/1 and 59/2. Historically informed performance is not an intention here, but its principles have clearly influenced some interpretative decisions, particularly regarding expression and articulation.
The players' op.59 no.1 starts briskly; maintaining such momentum results in some inaccuracies, but the coda's triplet exchanges are superbly accomplished. Their second movement has all the requisite humour and drama, but their slow movement lacks the profound melancholy of some other accounts. Their finale is powerfully dramatic without ever going into overdrive; detail is strikingly clear, particularly the articulations in the finale Adagio. Their articulation of the syncopations in bars 58–64 of op.59 no.2's first movement is also refreshing, as are their reposeful Molto adagio, their articulations and expressive insights in the Allegretto, and the rhythmic buoyancy of their finale.
Tully Potter praised this group's 2006 recording (The Strad, March 2008), in which its beguiling Adagio of the Quintet op.29 is outstanding. Overall, though, these performances have a variability and raw-edged quality, which may weight against their replacing existing favourites in a heavily populated field. Nevertheless, they include some refreshing insights in a full and truthfully balanced recording.


ROBIN STOWELL