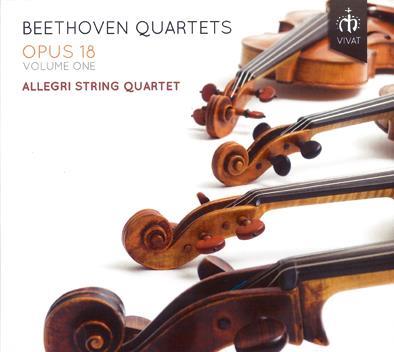 The Strad Issue: January 2013
Description: The engaging launch of a new Beethoven series from a veteran ensemble
Musicians: Allegri Quartet
Composer: Beethoven
Beethoven's op.18 string quartets may not match the formal experimentation and expressive extremes of his later quartets, but there's a youthful invention that shows the young arrival to Vienna pushing beyond the examples of Haydn and Mozart, rather than simply inheriting them. Celebrating its 60th anniversary (though the line-up of players has obviously changed en route), the Allegri Quartet perhaps responds to this notion by lending the rhythmic accompaniment a brittle edge, and in a more specific instance by lingering over the unorthodox chromatic harmony in the fourth variation of op.18 no.5's Andante cantabile.
The playing is engaging and dynamic enough throughout the disc but flashes of insight, inspiration and chemistry are relatively rare. Lyrical solos sometimes appear underplayed – whether due to reticence or tension – and the wide-leaping cello line in variation 5 of no.5's Andante cantabile strays a touch too far into rustic territory. The Andante scherzoso quasi allegretto of no.4 adopts a stance that is oddly more stately than scherzo-like.
Recorded at the Menuhin Hall at the Yehudi Menuhin School in Surrey, England, the sound approaches a studio-like dryness, but has a visceral impact in vigorous passages, such as the gypsy-style rondo finale of op.18 no.4.
Edward Bhesania