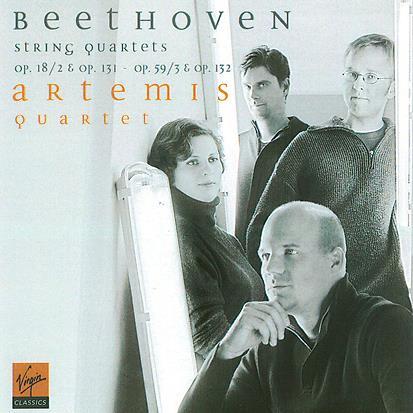 The Strad Issue: January 2010
Musicians: Artemis Quartet
Composer: Beethoven
Though dating from 1998?and 2002, these are?'historical' recordings, as two members of the ensemble have since departed. Virgin is issuing the whole series taped for West German Radio, no doubt reasoning that it gains a Beethoven cycle on the cheap, but one of these quartets should have stayed in the WDR vaults.
Utterly delightful is the cheerful performance of op.18 no.2 from 2002, vivaciously led by Natalia Prishepenko. Tempos are just, balance among the parts is excellent and the Cologne studio recording is good. The players produce a lot of weight for the development of the Allegro vivace, but the tenor of the interpretation is not disturbed.
The 1998 third 'Rasumovsky' Quartet is a?decent performance from a Cologne hall. Everything is in place and nicely pointed under the same leader, and all that is lacking is the last ounce of inspiration, especially in the final fugue. The recording is not especially good.
Virgin's booklet annotator agrees with me that op.131 is the greatest piece of music from our civilisation. It ought to be harder to play than op.132, but I hear fewer good readings of the A minor Quartet. The same is true here, where Heime Müller leads both late quartets. ?The C sharp minor from 2002 at once draws you in with the?opening fugue and unfolds naturally. I?miss the humour, though the Artemis's punctiliousness is the next best thing. The?finale is rather peremptory but stops short of brutality.
The 1998 Artemis is not ready for op.132. There are so many signs of an interpretation at the inchoate stage. Again and again the various accents impede the flow, rather than being subsumed into it. The attempts to create interesting organ-like sonorities for the 'Heiliger Dankgesang' are undermined by feeble rhythm, poor control and loss of momentum.


TULLY POTTER