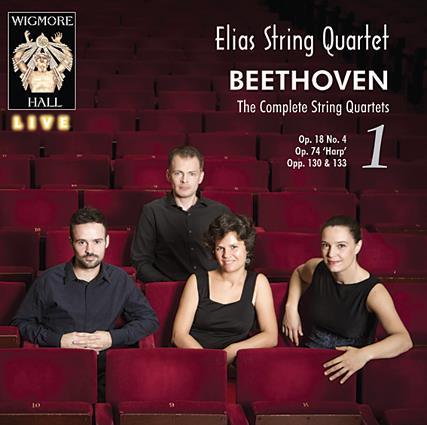 THE STRAD RECOMMENDS
Description:
The Elias embarks on a Beethoven quartet cycle
Musicians:
Elias Quartet
Composer:
Beethoven
It is a decade since I first encountered the remarkably gifted young musicians of the Elias Quartet, when they became founder members of the Sheffield-based chamber group Ensemble 360. They have musically travelled a long way since then, and are now placing on disc a complete Beethoven quartet cycle recorded in concert at London's Wigmore Hall, this being the first volume.
They follow much in the footsteps of the ASV recordings by the Lindsays, their predecessors as Sheffield's quartet-in-residence, the opening movement of the C minor Quartet setting the scene with a detailed observance of dynamic markings. Yet the similarity to the Lindsays continues with an urgent view of the following Andante and Minuet, and a final Prestissimo at times excitingly fast. But above all it is their feeling of spontaneity that yields a fresh and invigorating account. A sombre mood in the opening Poco adagio of the 'Harp' Quartet continues through the second movement and is only lifted with a hectic scherzo and a very personal view of the finale, where intonation is at times questionable.
Op.130 will be heard twice in the Wigmore series, and is here performed with its original Grosse Fuge ending. I am again much taken by the players' perfectly graded dynamics, yet the live performance had clearly been a long evening, and the energy needed for the Fuge was almost a step too far. In the hall it must have been spine-tingling, though close scrutiny on disc reveals tired left-hand fingers. Close microphones support the detailed playing.
DAVID DENTON