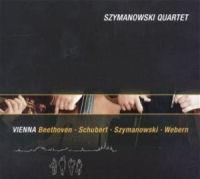 The Strad Issue: January 2011
Description: Szymanowski is successfully put in the context of music that inspired him
Musicians: Szymanowski Quartet
Composer: Beethoven, Schubert, Szymanowski, Webern
I have never experienced in the concert hall or on disc such an elegant account of the second of Beethoven's op.18 quartets as this. The music dances with unhurried grace and has a charm that smooths out those dynamic extremes that have now become highly fashionable elsewhere.
The dramatic approach to Schubert's Quartettsatz, which follows on the disc, comes as a surprise, once the players' hushed opening has created a mood of suspense. From then on the score's many moments of tranquillity are interrupted with agitated aggression, and the basic tempo is pushed forward with uncommon urgency.
Webern's Langsamer Satz for string quartet has its roots in the last flowering of the Romantic era, and the Szymanowski Quartet's warm and vibrant playing points to the influence of Richard Strauss.
The purpose of this release is to put Szymanowski's work in the context of the music he heard and was influenced by in his two years spent in Vienna, though it is Janá?ek that one hears hovering in the background of his First Quartet. That feeling is strengthened by the searing tone that Andrej Bielow's first violin brings to the unbridled passion of the work's outer movements. It is playing that superbly captures the score's brilliant colours, which themselves are perfectly conveyed in this outstanding Southwest German Radio recording.


DAVID DENTON