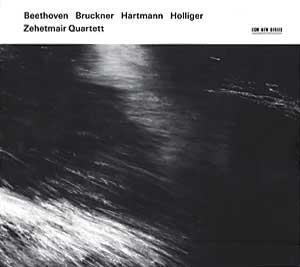 The Strad Issue: January 2014
Description: Mixed results in a decidedly motley combination of string quartets
Musicians: Zehetmair Quartet
Composer: Beethoven, Bruckner, Hartmann, Holliger
Beethoven, Bruckner, Hartmann and Holliger: it's a weird combination for a CD release – and one that the booklet notes try but fail to make sense of. In reality, this not-so-generously filled two-CD set brings together two sessions – the final recording (in Hartmann's Second Quartet) made with the Zehetmair's previous cellist, Françoise Groben, who died in 2011, and a more recent session capturing the three other works, with cellist Ursula Smith. It doesn't really hang together as a recital, but what unifies the recordings is the quartet's hyper-expressive, microscopically detailed interpretations. It's as if the players are determined to extract every drop of expression from every phrase: tempos are pulled around even from note to note; tone can plummet from the piercingly strident to a breathy whisper within a single passage; vibrato and articulation are similarly pushed to extremes. And the close recording captures every detail. It's an approach that pays off magnificently in the Hartmann and the Holliger, but much less so in the Beethoven and Bruckner. Beethoven's melodies have little chance simply to sing, and the F major Quartet's scherzo approaches rawness in its throbbing arpeggios. The Bruckner Quartet churns and seethes with restless emotion, and the contrast between the harsh ritornellos and sweetly spun episodes in its last-movement rondo is quite astonishing. But under the same intense approach, the Hartmann Quartet's second movement sounds fragile and thoughtful, and its concluding Presto is a big, violent, urgent utterance. Best of all, the Zehetmair players are hugely expressive in the single-movement Holliger Second Quartet, charting with remarkable passion the work's straining against the confines of the quartet medium. It's not always pretty, but it's undeniably powerful.
David Kettle