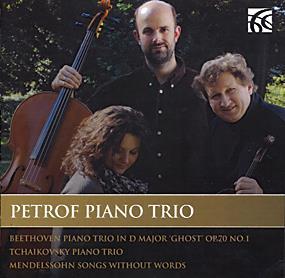 The Strad Issue: May 2015
Description: Persuasive and well-proportioned playing with a rich tone
Musicians: Petrof Piano Trio
Composer: Beethoven, Tchaikovsky, Mendelssohn
The Petrof players perform the outer movements of Beethoven's 'Ghost' Trio with excitement and energy. In the first they sweep though the composer's dialogue and counterpoint as if engaged in stimulating conversation; the finale balances exuberance with elegance and finesse. The great span of the central slow movement is nicely paced, with a potent mixture of flow and seeming stasis. The pulse and direction of its phrases are achieved with subtlety of vibrato as much as with bowing.
In Tchaikovsky's Trio the playing is warmer, with enriched tone and vivid rhythmic pointing. The players wisely exercise moderation where the composer constantly calls for emphasis and accent, and many of the high-volume dynamics are toned down where the music might otherwise become relentless and hectoring. The Tempo giusto section of the first movement is played with a delicious creamy legato; and when the opening Adagio theme returns, violinist Jan Schulmeister, using his eloquent vibrato to good effect, plays it with an edge of tragedy. The second movement opens with beguiling drawing-room charm and the first variations have a winning insouciance. More hard-edged playing appears in the waltz variation and the strings begin to bite. This
is a beautifully proportioned performance. The recorded sound is warm and well balanced.
TIM HOMFRAY