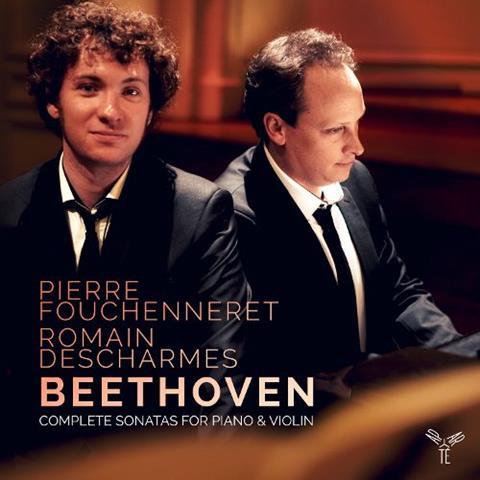 The Strad Issue: February 2017
Description: A close partnership brings romantic warmth to the Beethoven sonatas
Musicians: Pierre Fouchenneret (violin), Romain Descharmes (piano)
Composer: Beethoven
Catalogue number: APARTÉ AP 129 (3CDs)
Recorded in concerts over two days, these performances bear few traces of haste in their preparation or execution. Pierre Fouchenneret has a lovely, easy way with the pearly strings of semiquavers that pass for thematic development in the early sonatas, where the influence of Mozart and Corelli still runs. Romain Descharmes is his partner, a master of subtle rubato, stealing a quaver here and there to lean into a phrase and putting it back before a loss of pulse can be detected. Both opp.23 and 24 have a spring in their step.
Two discs in the set run for well over 82 minutes; listeners with vintage CD players should beware. Whether for economical or aesthetic reasons, the first seven sonatas are arranged not in chronological order but in attractive recital sequences. On Chandos, Tasmin Little and Martin Roscoe do the same, at very similar tempos, and I find they have more to say: more pathos in the slow movements of op.30, more wit in the finales. Choosing to bow rather than pluck the chords of the fourth variation in the finale of op.30 no.1, Fouchenneret is comparatively clumsy and forthright, and the finale of the 'Kreutzer' tends towards aggressive declamation.
In op.96, the French pair recover the athletic poise they brought to the earlier sonatas. Even in the sonata's most ethereal pages, Fouchenneret never sacrifices a warm, full tone, which will please lovers of violin playing in the Romantic tradition more than listeners inclined to 'period' Beethoven. His heavy vibrato and seamless cantabile in the slow movement are defiantly old-school without aspiring to the aristocratic authority of Grumiaux and Haskil. The recording brings Fouchenneret's breathing into uncomfortably close focus during the finale, but the acoustic of a recently renovated Cherbourg theatre otherwise contributes to the success of an album that stands more as testament to a close and warm artistic partnership than as the last word on Beethoven.
PETER QUANTRILL