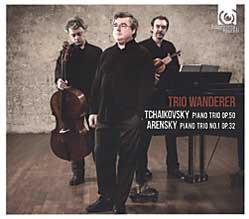 THE STRAD RECOMMENDS
The Strad Issue: January 2012
Description: A benchmark set that makes a virtue of being more complete than most
Musicians: Wanderer Trio
Composer: Beethoven
The descriptor 'complete' for these four discs of Beethoven's piano trios refers to the inclusion not only of the composer's six core works in the genre but also op.11 (with violin replacing clarinet), WoO38 and 39, and the variation sets opp.44 and 121a 'Kakadu'. The Wanderer Trio's accounts are as accomplished and musically communicative as one might expect from an ensemble celebrating its 25th anniversary; throughout, these artists show a remarkable unity of purpose while still preserving their separate musical identities. They perform the three op.1 trios with infectious enthusiasm, taut ensemble, bold contrasts of dynamic, strong accents and plenty of Beethovenian sinew and drive. Their dramatic accounts of no.3 and the sparkling finale of no.2 are especially impressive.
They also offer highly dramatic readings of the two op.70 trios. The sheer ebullience with which they perform the outer movements of no.1 totally convinces. Dynamics are acutely graded for optimum effect, particularly in the 'ghostly' second movement. The more spacious op.70 no.2 finds the players more relaxed, demonstrating a persuasive sense of line in the slow introduction and intelligent musicianship in the ensuing Allegro, even if the latter lacks the Beethovenian drive present in the finale.
The first movement of op.97 seems mannered and musically compromised at such a moderate Allegro, but the slow movement's variations are sharply characterised. Plenty of fuel is left unburned for the energetic scherzo, the dark chromatic shadows of whose trio are sharply contrasted by an appropriately assertive waltz idea, and an exuberant finale.
These players make a good case for the op.11 trio with violin, avoiding heaviness and giving every phrase an individual life and character, and they play the 'Kakadu' and op.44 variations with characteristic elegance. WoO38 and 39 seem modest makeweights, despite these perceptive and tasteful accounts.
For some time it was difficult to recommend recordings of the core Beethoven piano trio repertoire without mentioning the Beaux Arts Trio, the Stern–Rose–Istomin ensemble or, latterly, the Florestan Trio. The Wanderer's set, with nimble pianist Vincent Coq outstanding, certainly deserves to become a front-runner in a highly competitive field. The recording is naturally balanced in a warm acoustic.



ROBIN STOWELL