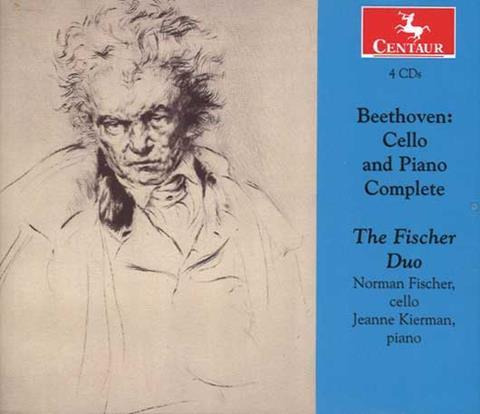 THE STRAD RECOMMENDS
The Strad Issue: November 2014
Description: A set that brings together everything Beethoven wrote, and arranged, for cello and piano
Musicians: Fischer Duo: Norman Fischer (cello) Jeanne Kierman (piano)
Composer: Beethoven
Catalogue Number: CENTAUR CRC 3322/23/24/25 (FOUR DISCS)
This set is not just complete, it is very complete indeed. No arrangement is overlooked, not even Czerny's version of the 'Kreutzer' Violin Sonata. As the first three discs present the music in chronological order, the opening work is Beethoven's arrangement of his op.3 String Trio in E flat major, in which the cello has a largely supporting role, played by Norman Fischer with gentle affection. The Handel Variations that follow flow along pleasantly. It is nearly the end of the first disc before the First Sonata appears and Fischer enters the limelight, with a beautifully measured introduction leading to an Allegro played with high good humour, followed by a light, airy second movement.
The sonatas are of course the main courses in this generous feast. The great opening Adagio of the Second Sonata has majesty and movement, and develops considerable emotional power. The ensuing Allegro is restless and turbulent, with a pent-up passion which finds release at the opening of the development. The second movement has a lightness that gives even the most energetic playing a sense of infectious enjoyment.
The broad sweep of melody that opens the A major Sonata is subtly shaped and warm-toned, and further in there are rhythmic snap and verve, with a sure understanding of musical architecture to bind it together. The scherzo goes with a swing, and the Adagio has a weighty dignity which belies its short duration before the sparkle of the finale.
There is a severe tinge to the C major Sonata. In the first movement the phrases press forward urgently, and the moments of gentle melody have magical serenity and warmth. The third movement, with its rhythmic wrong-footing, is dry and unsettling despite its passing beauties.
In the final sonata Fischer and Jeanne Kierman are magisterial, marrying rhetorical flourishes and halting phrases with a narrative drive. The D major central section of the Adagio has a wondrous glowing legato, and the final fugue bubbles along, dry and full of shape.
Elsewhere there is some beautiful playing in the two sets of Mozart variations, with their inventive cello writing. The 'composing score' version of the A major Sonata's first movement is a real curiosity, exposing Beethoven's first (and second) thoughts. Fischer makes the best of the Horn Sonata, which sounds better on the horn. The arrangement of the 'Kreutzer' Sonata suffers from poor intonation, but most of what is here is superb. This is great duo playing in an excellent recording.
TIM HOMFRAY