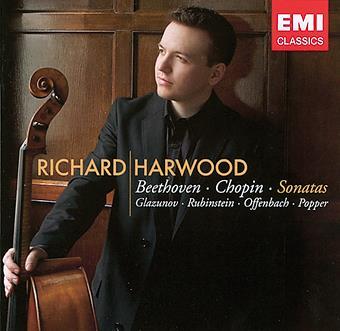 The Strad Issue: January 2007
Musicians: Richard Harwood (cello) Christoph Berner (piano)
Composer: Beethoven, Chopin, Glazunov, Rubinstein, Offenbach, Popper
British cellist Richard Harwood, winner of the Pierre Fournier award in 2004, made his BBC Radio 3 debut aged 13 playing Elgar's Concerto, and has studied for four years with Heinrich Schiff in Vienna and another two with Ralph Kirshbaum in Manchester. Although involved in contemporary music, he has chosen seasoned repertoire for this debut disc.
Noticeable from the solo opening of Beethoven's op.69 is the voluptuous shaping of Harwood's phrasing – no half-measures here. His playing is hard to beat for sheer beauty of tone, though in the first movement he sometimes tails off his phrases to such an extent that the last note is lost.
The Scherzo contains a strange interpretational aberration – the off-beat crotchets tied across the barline lose their point for at least half the movement when Harwood puts an extra accent on the barline, giving the music an unwanted rhythmic stability.
Balance is excellent, the two instruments equal partners as they pass their ascending and descending scale figure to one another in the last movement, and there's a feeling of intimacy and immediacy about the recording, with every one of the finale's rapid notes – and it's taken at quite a pace – clearly audible.
I loved Harwood's heart-on-sleeve playing of Rubinstein's Mélodie, redolent of Edwardian salons, while Popper's spiccato study Elfentanz, a mass of angular elfin limbs, is pushed to its limits without losing control.
Chopin's Sonata is impassioned and lyrical, with big vibrato and a full, Romantic tone. Harwood applies a light touch to the trio of the Scherzo, and the Largo is deeply expressive.
JANET BANKS