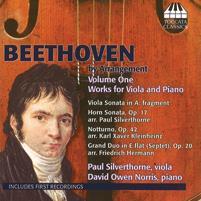 The Strad Issue: January 2011
Description: An enjoyable collection that reminds us that Beethoven played the viola in his youth
Musicians: Paul Silverthorne (viola) David Owen Norris (piano)
Composer: Beethoven
Although Beethoven, in his youth a violist in the Bonn orchestra, did begin to write a viola sonata, he unfortunately only got as far as the eighth bar. The fragment, all 16 seconds of it, sounds like one of his early violin sonatas. Years later, the composer grudgingly approved a transcription of his Serenade for string trio made by one Karl Xaver Kleinheinz, who turned it into a Notturno for viola and piano by combining the violin and cello parts into one piano part. However, Beethoven didn't live to see Friedrich Hermann's more radical intervention in adapting his Septet for viola and piano. Nor, of course, Paul Silverthorne's transcription of the Horn Sonata, in which the violist picked and chose between the original horn part and Beethoven's own, more elaborate version for cello.
In the hands of Silverthorne and David Owen Norris, the Notturno makes uncommonly good sense. At a slightly lower pitch than usual, Silverthorne's gut-strung Brothers Amati viola blends beautifully with the warm sound of Owen Norris's Viennese piano from the 1860s. Similarly, in the Grand Duo, which like the Notturno includes many passages where the viola accompanies the piano, both musicians bring forth ravishing sonorities, even when the viola ventures higher than was usual in Beethoven's day. Violist–producer Michael Ponder has achieved a beautifully sounding CD that is nicely complemented by Silverthorne's informative and enthusiastic booklet notes.
Carlos María Solare