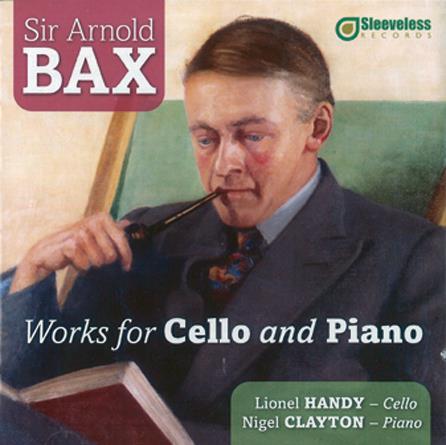 The Strad Issue: January 2013
Description: Welcome exposure for some rarely heard British cello repertoire
Musicians: Lionel Handy (cello) Nigel Clayton (piano)
Composer: Bax
This disc features the entire solo cello and cello–piano output of Arnold Bax, apart from the 1923 Sonata in E flat major. The earliest piece, the Folk-Tale, dates from 1918, the year that Bax finally left his wife and children for the pianist Harriet Cohen, with whom he had begun an affair four years earlier. Beneath its crowd-pleasing folk-lament surface, couched in richly chromatic Rachmaninoffian harmonies, there's a melancholy but turbulent journey that Lionel Handy points up eloquently. He drifts magically into nothingness at the end. A similar eloquence marks the lilting triple-metre slow movement of the attractive Sonatina in D major, which presents a brow less furrowed.
The Rhapsodic Ballad for solo cello was composed in 1939 for Beatrice Harrison, who never performed it – partly, as Lewis Foreman surmises in his booklet notes, to avoid arousing the jealousy of her violinist sister May, who was attracted to Bax. This piece is on a more ambitious expressive scale, creating a gnarly interior dialogue, which Handy grapples with head-on, clearly laying out its dramatic profile. Nigel Clayton could perhaps have offset the clunky form of the Legend–Sonata's first movement by pushing with more forward direction – and there's the very occasional misjudged shift or misplaced bow – but none of this mars the overall effect. A must for Bax fans and enthusiasts of 20th-century English music in general.



Edward Bhesania