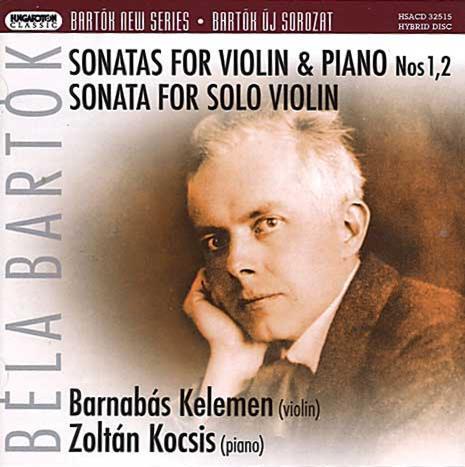 The Strad Issue: December 2014
Description: A particularly lyrical approach to Bartók's major chamber works for violin
Musicians: Barnabás Kelemen (violin) Zoltán Kocsis (piano)
Composer: Bartók
Bartók's First Violin Sonata has been notoriously diffident in offering up its inner secrets, and the available recorded versions take many differing views. This new release from the Hungarian violinist Barnabás Kelemen concentrates on the score's lyrical side, and even in passages where the percussive impact of the piano lays bare the work's astringent aspects, his generous vibrato takes the edge off Bartók's dissonances. His very hushed 'night music' in the central Adagio is ideal, and forms a contrast to his fast and fiery reading of the final Allegro.
The more gentle and improvisatory nature of the short Second Sonata is particularly suited to Kelemen's warm tone. Here the duo, having welded together the many divergent moods of its two-movement structure, concludes with a mercurial finale that amply displays the players' combined virtuosity.
With microphones closely placed for maximum impact, Kelemen's account of the Solo Violin Sonata is most impressive. The opening Ciaccona is played with a white-heat intensity that continues into his forceful performance of the following Fuga. If his dynamics in the slow movement are more generous than are often recorded, his finale has moments of charming wispiness within a stunning show of technical brilliance.
The piano tone is rather loosely focused but otherwise the sound is well balanced.
David Denton