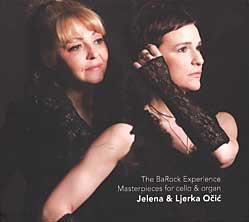 The Strad Issue: January 2014
Description: Some lesser-known Baroque sonatas fare well in the company of familiar Vivaldi
Musicians: Jelena O?i? (cello) Ljerka O?i? (organ)
Composer: Barrière, Vivaldi
Jean Barrière's sonatas are tremendous, and by rights should be widely played rather than offered as an interesting by-way of Baroque repertoire. They are chock full of inventive drama and virtuosity. These beautifully recorded performances on cello and organ are certainly free in spirit, but they offer theatre and imagination, really bringing the spirit of the genre to life. I particularly liked the B minor First Sonata, where the organ is well suited to the held notes in the Adagio, allowing the cello scope to be expressively flexible with its ornate writing. Although the ornamentation is skilful and idiomatic, both composers might have been better served by a wider variety of continuo instruments to spice up the timbre, most obviously in the Allegros, where the harpsichord and theorbo in some rival recordings offer a percussiveness that can give the music greater rhythmic drive.
Indubitably, though, this duo brings great colour to some well-worn works such as Vivaldi's Sonata no.5 in E minor, where the icy depiction of the opening Adagio recalls 'Winter' from The Four Seasons, with some of the sul ponticello effects like a chilling wind. The ensuing Allegro bursts forth with dynamic and exciting energy. Again, sul ponticello offers timbral diversity, alongside some interesting stops on the organ.
Vivaldi would be delighted, and maybe amused, that his sonatas pepper the exam syllabuses with unchallenged regularity, and the Sixth Sonata offers some fine music – not least the lovely harmonic suspensions in the Largo and a buoyant concluding Allegro, delivered here with panache.


Joanne Talbot