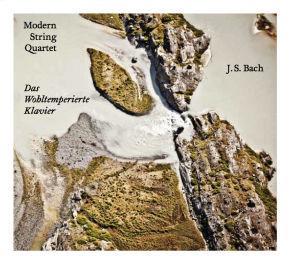 The Strad Issue: January 2013
Description: A new string arrangement of a Bach keyboard classic
Musicians: Modern Quartet
Composer: Bach
In 1994 the Modern Quartet released its leader Joerg Widmoser's string-quartet arrangement of Bach's Art of Fugue. Now Book 1 of The Well-Tempered Clavier appears, this time on the jazz violinist, composer and arranger's own artist-led label.
There's little for purists to object to as these are almost all straight transcriptions (no recomposing, and certainly no swinging à la Loussier). Indeed, it's revealing to hear Bach's counterpoint opened up in a way that is impossible on a keyboard. The playing is well blended, stylistically aware and captured in sound that is clear, natural and nicely distributed across the sound stage. And the strings' sustaining ability brings a novel drone-like pastoral quality to the E major Prelude and similarly to the G minor Prelude.
If you were looking for gripes you'd hear a palm-court quality in the pizzicato accompaniment to the D major Prelude – though its relentless semiquaver upper line is a minor feat if, as it appears, it is played throughout only by Widmoser. The familiar between-the-hands, broken-chord figuration of the C major Prelude is perhaps ill-advisedly reconfigured and just occasionally we lose the grandiloquence of the final flourishes that close certain of the Preludes. But overall, Bach lovers are unlikely to be disappointed.
EDWARD BHESANIA