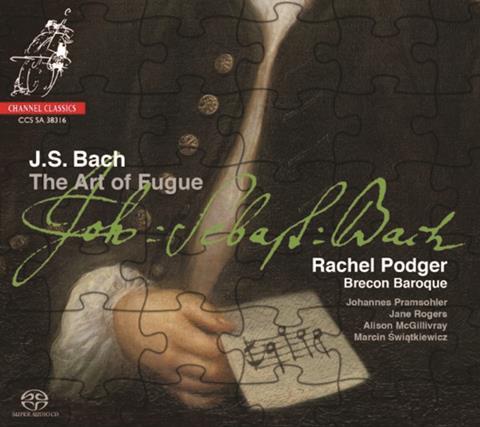 The Strad Issue: October 2016
Description: Intimacy and ingenuity in Bach's unfinished book of contrapuntal studies
Musicians: Rachel Podger (violin), Brecon Baroque
Composer: Bach
Catalogue number: CHANNEL CLASSICS CCSSA 38316 (SACD)
Bach specified neither instrumentation nor performing order for The Art of Fugue, an unfinished collection of fourteen fugues and four canons exploringthe contrapuntal potential of a single subject. Rachel Podger and her four colleagues opt to present the fugues in a variety of instrumental combinations (from a 'pool' of two violins, two violas, cello and harpsichord) and as a progressive sequence, extending from the opening four relatively simple fugues through the double and counter fugues into much more complex territory, inserting the canons as considered appropriate. They revel in Bach's life-enhancing contrapuntal interplay and their relaxed, instinctive approach and ever-changing instrumentarium engender welcome contrasts within his ingenious conception. Particular highlights are the fugues scored for full ensemble, with Contrapuncti nos.7 and 9 the best of all.
Podger and cellist Alison McGillivray characterise the Canon alla ottava and Canon per augmentationem in contrario motu with striking imagination. Harpsichordist Marcin Swiatkiewicz dispatches the Canon alla duodecima with sensitivity but his account of the Canon alla decima seems unnecessarily difficult to unravel. Podger opts to end as Bach did, adding a simple cadence and leaving the final iterations of B–A–C–H up in the air. The recording is expertly balanced in an acoustic offering both ambience and intimacy.
Robin Stowell