The shape-shifting Cello Suites sound stunning on the violin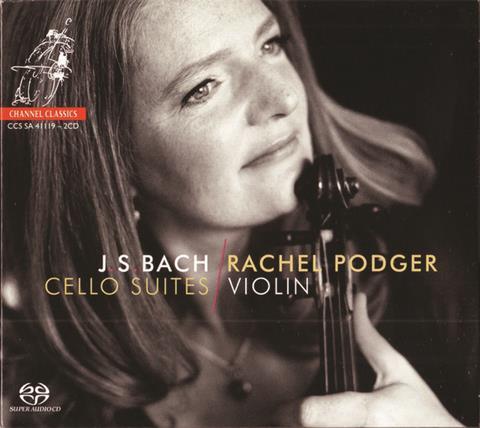 The Strad Issue: July 2019
Description: The shape-shifting Cello Suites sound stunning on the violin
Musicians: Rachel Podger (violin)
Works: BACH Cello Suites BWV 1007–12 (arr. Podger)
Catalogue number: CHANNEL CLASSICS CCS SA 41119 (2 CDs)
Rachel Podger justifies her appropriation of Bach's Cello Suites for the violin in a booklet essay sub-titled 'Legitimate or Loony?' There she points out that the composer was always re-using his own music, and even arranged the Prelude of the E major Solo Violin Partita for orchestra. She might also have pointed out that they're standard repertoire for viola players (and perhaps even referred to Sigiswald Kuijken's with his shoulder-cello).
Her other concern was for the violin's relative lack of weight, which has led her to taking slightly faster speeds, and in so doing emphasising the essential dance qualities of the Suites: the kinetic energy she releases in the bourrées and gigues is especially delightful. Podger wondered also whether the sarabandes might lose something by the upward transposition, but no: they have majestic solemnity, their speeds beautifully judged, their great lines spun with acute concentration.
The general lightness of these performances, relative to those on a cello, is as much a feature of Podger's playing as of the difference in instruments (after all, fiddle players sometimes make heavy weather of the solo violin works). She is agile, her phrasing always natural and eloquent, emphasising key notes, sculpting scalic passages as they rise and fall. In the section repeats she becomes creative, elaborating the music with ornaments and grupettos. When needed she can produce plenty of heft as well, digging into the lower gut strings to draw out a fruity resonance aided by the generous acoustic.
Her playing is, needless to say, superlative. These are wonderful performances, of which the great man would surely have approved.
TIM HOMFRAY