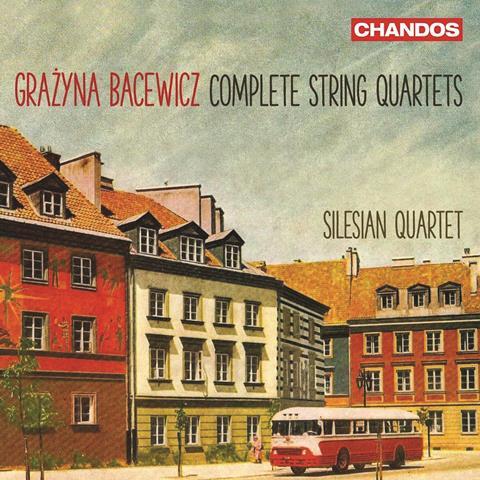 THE STRAD RECOMMENDS
The Strad Issue: October 2016
Description: Benchmark recordings of a major Polish composer's seven quartets
Musicians: Silesian Quartet
Composer: Grazyna Bacewicz
Catalogue number: Chandos CHAN 10904 (two CDs)
Still rarely heard in concert, the seven string quartets by Grazyna Bacewicz make up a substantial and important contribution to the form. They span the period from the 1930s to a few years before her death in 1969 and chart their composer's journey from French-inspired Nadia Boulanger pupil to the heart of the Polish avant-garde explosion of the 1960s. The quartets may not individually break new ground but they are testament to the craft, ingenuity and imagination of their creator. In no.1 (1938), Ravel meets Polish folk music in an engaging blend; the surprisingly chirpy no.2 (1943) belies its source in the maelstrom of wartime Warsaw; and the best-known of the seven, no.3 (1947), moves into more Bartókian territory.
There's evidence in the next pair (1951 and 1955) of the composer 'doing a Shostakovich' and using the quartet medium to sideline the growing political pressure for socialist realism in music – these are tough, uncompromisingly personal utterances. The final pair (1960 and 1965) sound more experimental in their use of texture as a key component, more in line with the contemporary experimentation of Penderecki and Lutoslawski, if at not such an extreme level.
The seven quartets are made all the more approachable in these seriously skilled performances by the Silesian Quartet, recorded in a close but atmospheric ambience in Katowice in 2010–11. This is a well-blended ensemble in which no one player sticks out inordinately from the rest – except where the music requires it. Rhythms are kept taut and the textures have bloom – it's hard to imagine these fascinating pieces better played.
Matthew Rye