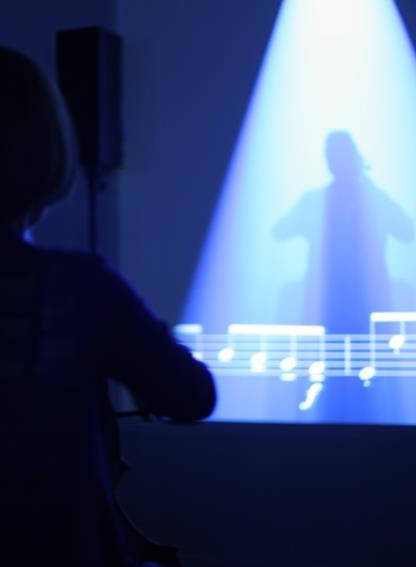 A new music installation has been launched in Australia, designed to give listeners a concert experience without any musicians present. Devised by the Australian Chamber Orchestra (ACO), the project consists of 13 screens, each featuring an ensemble member in performance, surrounding the audience. The sound of each individual musician comes from the direction of their individual projections.

ACO general manager Tim Calnin said the idea for the installation had originated as a way of tackling the problems of touring in the vast country. 'A digital installation of the ACO could provide a way to bring a unique musical experience to communities outside the state capitals,' he said. 'The starting point was the desire to reach people in remote and regional Australia in an engrossing and compelling way.'

In addition, a single audience member can operate the installation using a touch screen 'music stand', which displays each of the musicians as well as the sheet music. The operator can decide whether to listen to an individual player, a section, or all 13 musicians together. Using the sheet music, students can also play their own instruments along with the ensemble. The aim is for the technology, available for hire from AU$5000 (£2,900) to be used by schools and community centres around the country, as well as galleries, museums and exhibition spaces.

Costing around AU$500,000, 'ACO Virtual' will be showcased at the Sydney Opera House Studio from 21-23 October and 27-29 October. It will be installed in various towns in New South Wales in 2014.
Subscribe to The Strad or download our digital edition as part of a 30-day free trial.
Photo: courtesy ACO