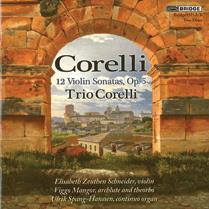 The Strad Issue: January 2012
Description: Rewarding performances of Corelli's great set of violin sonatas
Musicians: Trio Corelli
Composer: Corelli
The often lavish and warm-hearted character of Corelli's oeuvre is well displayed by these performances of the twelve op.5 sonatas, featuring violinist Elisabeth Zeuthen Schneider, a professor at the Royal Danish Academy of Music and a versatile artist who has recorded music from the Baroque to modern Danish repertoire.
The first disc, comprising the first six sonatas, features Corelli's own embellishments, while the remaining sonatas (culminating in the famous 'Folia' Sonata, here played with great variety of texture and colour) are ornamented by the players themselves. These ornaments display a thoughtful and intelligent approach. Arguably, Schneider uses rather too much of a suspiciously modern-type vibrato, evident from the possibly over-thick sonorities of the first movement of the First Sonata. Yet such richness does not always allow for tonal clarity – this movement, as well as the third of this sonata, for example, includes some rather strident tone, albeit delivered with great liveliness. This said, there is some beautiful playing, including the wonderfully languid opening Adagio of the Third Sonata in C major, which includes some portamentos. The second disc of sonatas, nos.7–12, includes perhaps the most familiar material, which is performed with a higher standard of delicacy and precision.
The ensemble as a whole is very convincing and an attractive prospect for the modern palate – while so-called 'Baroque pitch' is used, the temperament is, if not 'equal', then certainly sufficiently close as to pose no challenges to the uninitiated listener. Schneider is well supported by lutenist Viggo Mangor and organist Ulrik Spang-Hanssen, and the whole thing is recorded with admirable clarity.
David Milsom