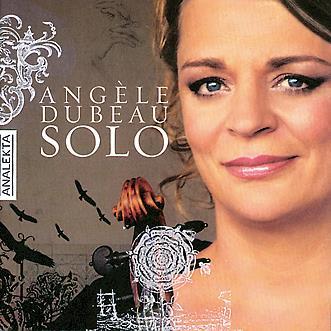 The Strad Issue: January 2007
Musicians: Angele Dubeau (violin) Blair Williams (narrator) Pierre Lebeau (narrator)
Composer: Piazzolla, Ridout, Locatelli, Enescu, Glick, Brubeck & Campagnoli
After 30 years of giving concerts, violinist Angele Dubeau, something of a household name in her native Canada, has compiled this eclectic programme of some of her favourite works. It's an interesting selection: no pot-boilers here, but a journey from Locatelli's Caprices of 1733 – the same year that her 'Des Rosiers' Stradivari was made – right up to Dave Brubeck's 1999 Bourée.
You need to be an exceptional communicator to make a success of an unaccompanied violin disc. Dubeau, also a TV and radio personality, evidently is: you feel she has a tale to tell – a soulful one in Enescu's Prelude, echoing across Romanian plains, one of poignant poetry in Srul Irving Glick's Serenade. In Alan Ridout's charming adaptation of Munro Leaf's Ferdinand the Bull, the tale is passed to the narrator. It sounds very fine in Pierre Lebeau's throaty French, with Dubeau providing vivid musical portrayals of bullfights, Ferdinand's mother's moo (a double-stopped, descending glissando) and the peace-loving little bull. You can also hear it in the original English on the bonus DVD, which reruns the CD with one image from the booklet per track, plus a 15-minute video of the recording.
Dance and virtuosic display also feature in Dubeau's selection: Locatelli's Caprice no.9 sees her bow flying across the strings to dazzling effect, while Piazzolla's Tango-études of 1987 add the swing of the tango to their technical challenges. Recorded in a wide open church acoustic, Dubeau's full, bright tone rings out while maintaining an intense focus, on this lavishly produced disc.
JANET BANKS