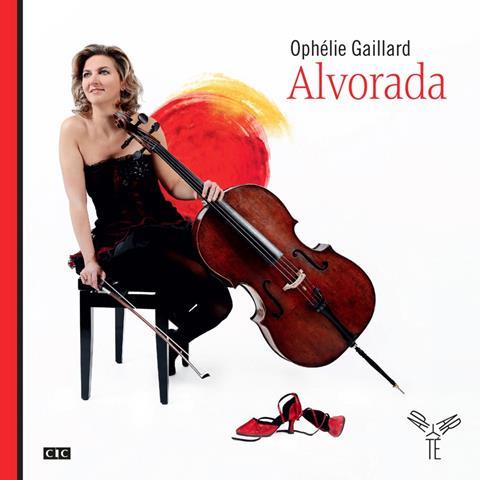 THE STRAD RECOMMENDS
The Strad Issue: December 2015
Description: Gaillard crosses the Atlantic to explore Latin American styles
Musicians: Ophélie Gaillard (cello) and friends
Composer: Falla, Granados, Piazzolla, Villa-Lobos
This sumptuously packaged release on the elegant, niche French label Aparté is an ambitious undertaking: over 100 minutes of music across two discs, featuring 27 performers. French cellist Ophélie Gaillard, who has recently recorded C.P.E. and J.S. Bach, Schumann and Liszt for the label, is at the heart of every piece on Alvorada, but this is not a solo album. From the outstanding bandoneón player Juanjo Mosalini to Gabriel Sivak's light, fluent arrangements and the finely balanced recording, many inspirations went into the making of Alvorada.
The recording's concept is so wide that it is virtually redundant: an exploration of musical styles – Brazilian samba and bossa nova, Argentinean tango, Cuban rumba – to have emerged from the European and African entry into the Americas. But each genre is well researched and each classic song – including Moisés Simons's 'El manisero' (The peanut vendor), Buena Vista Social Club favourite 'Dos gardenias' and Tom Jobim's Bossa standard 'Wave' – are rendered in Technicolor. Vocal contributions (including two by samba star Toquinho) do much to vary the tone. In addition to arrangements of popular tunes, which are weighted towards tango, there are pieces by Latin-classical composers: sacred stillness in three Villa-Lobos pieces, the fire of Falla's Spanish folk songs and the familiar scrape and swerve of vintage Piazzolla.
Binding all this together is Gaillard's cello. Her playing, with wide vibrato and warm tone, is beguiling in each genre covered. Wisely, she does not try to dominate each piece; where she does, as on the closing three-part solo sonata by Cassadó, her playing soars.
TIM WOODALL