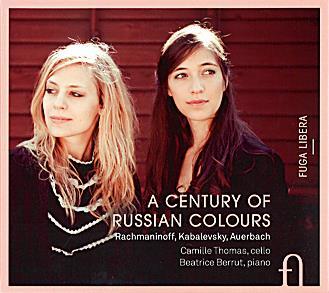 The Strad Issue: January 2013
Description: A celebration of 100 years of typically Russian emotions
Musicians: Camille Thomas (cello) Beatrice Berrut (piano)
Composer: Rachmaninoff, Kabalevsky, Auerbach
As a student of both Philippe Muller and Frans Helmerson it is clear that award-winning French cellist Camille Thomas has benefited from excellent tutoring. It's no surprise then that in these warmly recorded works her technical and musical readings are so impressive. The Rachmaninoff is a real heart-on-sleeve Sonata, yet these artists control the emotional pacing expertly, with a brisk and exciting Allegro scherzando and an Andante that is expressive yet eschews sentimentality. Beatrice Berrut creates real clarity within the huge piano part, with textures that are rich yet transparent, thereby allowing the cello line full sway.
If Rachmaninoff's idiom explores Romantic yearning, Kabelevsky's musical vernacular delves into steelier anguish. His Cello Sonata is sombrely framed by a mournful, slurred quaver theme which returns at the end of the work as crotchets. Both artists are compellingly expressive in the first movement's plaintive invention and the final Allegro is particularly brilliant, with the cello's 16ths powerfully descending into quadruple-stops.
Lera Auerbach's Preludes are stylistically steeped in Russian melancholy, with a fluent and individual style suggesting the influence of Schnittke and Prokofiev. The seven pieces presented here offer the maximum contrast and are vividly depicted from the off-key disturbed waltz of no.16 to the Prokofiev-like folk melody of no.20. The colours might err on the darker side of the spectrum, but the performers imbue these shades with great drama.
Joanne Talbot