The violinists are among 58 winners honoured by the German record industry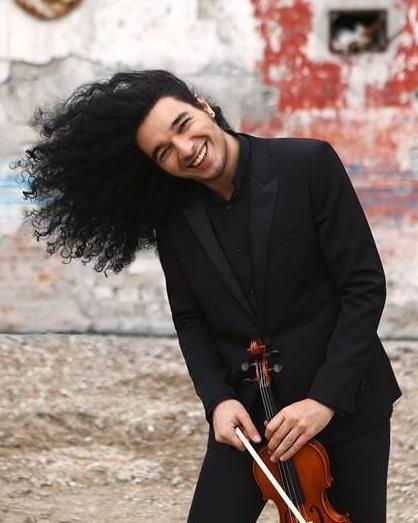 The 58 winners of the 2015 ECHO Klassik awards have been announced. Violinists including Vilde Frang, Tianwa Yang, Nemanja Radulović (pictured), Isabelle Faust and David Garrett will attend an awards ceremony at Konzerthaus Berlin on 18 October, broadcast on German television station ZDF. Both RaduloviSerbian violinist ranges far, as his musical travels take him eastwards and Garrett will also perform at the event.
Given annually by the Deutsche Phono-Akademie, the prizes recognise outstanding German classical recordings.
2015's Violin Instrumentalist of the Year is Chinese musician Tianwa Yang for her recording of Ysaÿe Sonatas for Solo Violin Op. 27 on Naxos, while the Violin Newcomer of the Year is awarded to Nemanja Radulović for 'Journey East' on Deutsche Grammophon.
Quatuor Ébène take home the prize for Ensemble of the Year for 'Brazil' on Erato, while the Kronos Quartet take the prize for Classical Without Borders for 'A Thousand Thoughts' on Nonesuch.
Concert Recording of the Year (music up to and including 18th century) is awarded to Vilde Frang for her recording of Mozart Violin Concertos no.1 and 5 on Warner Classics, and Concert Recording of the Year (19th century music) goes to Isabelle Faust for her Schumann recording with Freiburger Barockorchester conducted by Pablo Heras-Casado on Harmonia Mundi.
String Chamber Music Recording of the Year (17th/18th century music) goes to Cuarteto Casals for its recording of Richter's String Quartets on Solo Musica, and String Chamber Music Recording of the Year (19th century music) is given to the Artemis Quartet for its album of Mendelssohn on Erato.
Finally, the Bestseller of the Year is awarded to David Garrett for 'Timeless - Brahms & Bruch Violin Concertos' recorded with Zubin Mehta and the Israel Philharmonic Orchestra on Decca.
Photo: Marie Staggat / DG