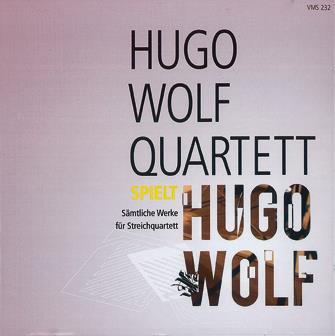 The Strad Issue: January 2013
Description: Sometimes grim but often powerful music from a troubled late Romantic
Musicians: Hugo Wolf Quartet
Composer: Wolf
How convenient that the complete quartet music of Hugo Wolf fits neatly on to one CD (six seconds short of an hour on this one). The eponymous quartet is of course obliged to play it rather well, and the players do him proud. The works are presented in chronological order (so the scherzo precedes the Langsam in the Quartet) and have a touch of autobiography about them. Wolf was 18 when he started the Quartet, with his head full of Beethoven and Wagner and syphilis already at work on his body. Some of it is grim fare, and there is something unflinching about the playing here. The dotted rhythms of the first and third movements have real bite to them, and the tone is often hard-edged, although the sound melts into beguiling warmth when Wolf decides to be beautiful.
The Langsam third movement is nicely played, its languid contrapuntal lines clear and supple, and its abrupt gear changes have logic and purpose. The Intermezzo comes across with quirky humour as the players skilfully handle its considerable demands and negotiate its weaving emotional course. The Italian Serenade has suavity and charm. The recorded sound is forward and vivid.
TIM HOMFRAY