Last remaining member of the original line-up of the US-based quartet was 92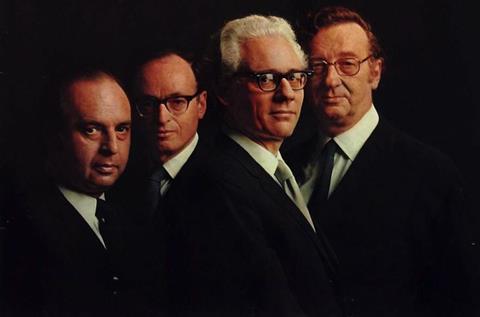 Walter Levin, who has died in Chicago at the age of 92, was born in Berlin in 1924 to a German Jewish family of passionate amateur musicians, and began violin and piano lessons as a five-year-old.
The family, suffering persecution by the Nazi regime, eventually emigrated to Tel Aviv in 1938, where Levin continued his musical studies. After the end of the war, he fulfilled a long-held ambition to study in the US, gaining a place at the Juilliard in New York in 1946, where he was taught by Hans Letz and Ivan Galamian.
Under the progressive presidency of composer William Schuman, the Juilliard accepted Levin's request to major in string quartet rather than as a soloist. The LaSalle Quartet was formed at the school and when Levin graduated in 1949, it included Henry Meyer (second violin) and Peter Kamnitzer (viola) who both remained with the group until it disbanded nearly 40 years later.
Also in 1949 Levin married pianist Evi Markov who became the quartet's manager and with whom he had two sons, Tom and David.
The LaSalle was appointed quartet in residence at Colorado College and, four years later, to the Cincinnati College of Music (now the University of Cincinnati College-Conservatory of Music), which provided it with the solid platform from which to launch an international touring and recording career.
The quartet developed a particularly strong affinity for the music of the Second Viennese School, and the recording of the complete quartets of Schoenberg, Berg Webern made in the 1970s remains on the live Deutsche Grammophon catalogue to this day, along with era-defining recordings of Beethoven, Debussy, Ravel, Zemlinsky and Lutosławski.
The latter was an example of the dedication to new music fostered at the Darmstadt summer school in the 1950s, which led to commissions and premieres of works by Ligeti, Nono, Cage and Penderecki among others.
Levin's reputation as a teacher grew at Cincinnati, where many students, including violinist Christian Tetzlaff, went on to major careers. He also privately taught pianist and conductor James Levine.
After the quartet disbanded in 1987, Levin turned to teaching full-time, eventually settling with Evi in Switzerland, where he was based at the Musik-Akademie der Stadt Basel. He continued teaching until mid-way through his eighties, frequently travelling internationally.
His diagnosis with dementia in 2011, following two serious accidents, including stepping in front of a tram in 2010, led them to relocate to a retirement community in Chicago's Hyde Park.
Levin's teaching was rooted in a philosophy of using research and intellectual rigour to illuminate interpretative decisions, becoming frustrated – and developing a fearsome reputation – with musicians who progressed phrase-by-phrase without considering the whole piece and its historical context. He would insist that quartets practise from the full score so they get to know each other's parts as well as their own.
'Trying to learn a piece from the parts is almost as hopeless as an actor trying to learn his lines without reading the whole play,' he is reported to have said. 'Imagine coming to the first rehearsal and saying: "I'm supposed to play a guy called Othello. And you? Who are you? Desdemona! Who's that? I don't know the piece; I've just learned my own part!"'
Photo: the LaSalle Quartet, with Walter Levin second from right. ©Deutsche Grammophon