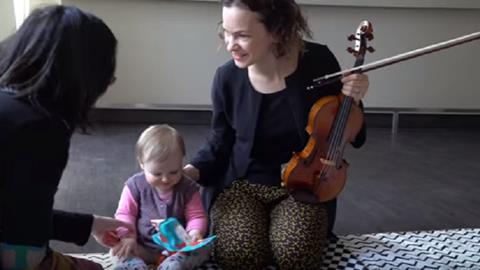 In the video above Hilary Hahn gives a concert for babies on 28 April 2017 in association with the Auditorium of the National Orchestra of Lyon.
The violinist announced in March that she would give concerts for parents and babies, having identified a gap in the market following the birth of her first child – a daughter named Zelda – in 2015.
'When I was a brand-new parent, I really wanted to take my baby with me to a grownup classical concert, something that I would normally attend myself. But I couldn't find any that were geared towards the parents while welcoming babies,' Hahn wrote on her Facebook page. 'So I decided to fill the gap. I started giving mini concerts for other new parents and caretakers of babies up to 8 months, to give them a break in their day, encourage them to share their love for the arts with their babies, and provide a warm experience for everyone to relax into together.
'I don't consider these "educational† concerts. They're for the grownups, just… everyone has to bring a baby in order to get in. Audience members are free to chill out, move around, feed, bounce up and down, sit on the floor, or cry. Anything they'd normally do!'