This video was organised by British violinist Kerenza Peacock. Upon hearing about the Russian invasion on 24 February, Peacock took to Instagram, befriending Ukrainian violinists who were still practising, while sheltering from bombs and defending themselves with Molotov cocktails.
She invited young violinist Illia Bondarenko, seen at the start of the video, to film himself playing in his basement shelter, before asking other violinists in Ukraine and colleagues from around the world to play along with him in harmony. Within 48 hours, she had received videos from 94 violinists, representing over 25 different countries.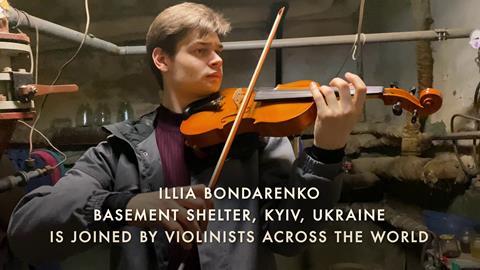 Nine other young violinists sheltering in Ukraine join in unison, and are accompanied in harmony by players from London Symphony Orchestra, Tokyo Symphony, Oslo Philharmonic, the Hollywood Studios, and top violinists from around the world, including soloist Daniel Hope who had, by coincidence, once coached Bondarenko.
Bondarenko's performance is even more poignant knowing that he had to record takes in between bombings, as he was unable to hear himself. Peacock says, 'Violinists are a fellowship who all have rosin and broken E strings in common, but sadly some are currently having to think about how to arm themselves, and hiding in bomb shelters instead of playing Beethoven or bluegrass.'
Operating under #ViolinistsSupportUkraine, a compilation of charity links can be found here.