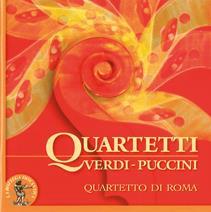 The Strad Issue: January 2012
Description: Mixed results in string quartets by two Italian operatic masters
Musicians: Rome Quartet
Composer: Verdi, Puccini
The Rome Quartet makes a speciality of Italian repertoire from the 19th and 20th centuries, as we are informed in the entertainingly mal-translated booklet. Hence the presence of the odds and ends from Puccini's bottom drawer. Verdi's Quartet is relatively well known, and the booklet reproduces the composer's direction that it should be played with a lightness of touch and a lot of staccato – with particular reference to the fugal finale.
The players are true to Verdi's word, with crisp and clear articulation, but are also rather mechanical, and this is broadly true throughout the disc. It isn't inexpressive, but the musical shapes sound superimposed rather than natural. After two and a half movements we reach a good Verdi tune, given to the cellist, who makes it sound dull. The players are not helped by the soundscape which, although resonant, is congested.
Puccini's Crisantemi has some wistful poetry and passion about it. His three minuets are charming, although here again the performance doesn't do them justice. The fugues are, well, fugues, written as exercises when Puccini was at the Conservatoire in Milan. The final two items date from the same time and were evidently from a quartet that he might or might not have finished.



TIM HOMFRAY